Additions
Additions are about adding value, excitement, options and of course space to your home or office setup. Additions come in all shapes and sizes — large or small. Greg Eggleston The House Doctor can help you to create the right addition to fit your needs and budget. Call us today at 208-631-4514 or fill out our online request form.
Room Additions
Room additions are a great way to make your home more comfortable and spacious while adding value to your property. Whether it is a new bathroom, a larger kitchen or an extra bedroom, a room addition will make your home a more enjoyable place to live for you and your family. A larger living space can make your home that much more  inviting whether you are entertaining company, visiting family or friends.
Decks and Patio Enclosures
Creating an outdoor living space is a great way to add comfort to your home and will add resale value to your home. And, there's nothing more relaxing than kicking off your shoes and enjoying a nice cold drink while you watch the sunset from your deck or patio after a long day's work.
Garages
A new or larger garage is a great way to add storage to your home. Not to mention, it will protect your second largest investment — the family car! Over the past few years, custom garages has been one of our most requested remodeling projects. Whether you are building a new garage or adding on to your existing one, we have the skill and knowledge to construct a quality addition that will meet all your needs.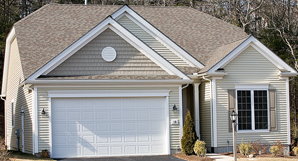 Remodel the outside of your home!
It's amazing what a fresh coat of paint can do to a home! You select the color and we'll do the rest! Need new siding, windows, doors? Not a problem. Greg Eggleston The House Doctor can handle any renovation job, no matter the size. We are experienced in all facets of remodeling and can help you pick the choice that fits your home the best.
Give Greg Eggleston The House Doctor a call today if you want the dream home you deserve!

Call us today at 208-631-4514 or fill out our online contact form.